About Us
Our Ministry
DaySpring Christian Church is a multi-cultural church located in Gardena, CA. The ministry began in February 2010 with Founder/ Pastor Charles E. Griffin III teaching Bible Study every Tuesday night in a small room of a church in the Los Angeles area to nearly 20 people. Nearly one year later, on January 2, 2011, DaySpring launched its first Sunday service as a church, and has been worshipping the Lord every Sunday since.
Our Purpose
Our purpose is to lead people to Jesus Christ, to teach the truth of the Word of God, worship and magnify the Lord together, and equip members to become active, faithful servants for ministry in our church and missions throughout the world.
Our Mission & Vision
DaySpring 's mission is to offer a new beginning in Christ to the broken-hearted. It is our desire to equip people with biblical principles needed to overcome life's challenges. We aim to have ministries that foster friendships through fellowshipping and help develop one's spiritual habits and Christian character. It is by this that lives are changed for others to witness the power and goodness of Jesus Christ.
Our Vision is that all believers will keep God first in their lives and discover their God-given purpose. We aim to be a church filled with people of diverse backgrounds, reflecting a true illustration of the love of God of all people. We strive to reach our full potential and become effective disciples for Jesus who honor Him with our obedient and sacrificial lifestyles, and share the good news of the Gospel.
Our Pastor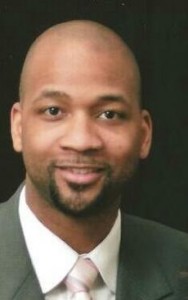 Pastor Charles, Church Planter/Pastor
Charles E. Griffin III is the Senior Pastor of DaySpring Christian Church. At the age of 20 Pastor Charles was called to the ministry of preaching and became one of the youngest Ministers at his church. Charles served as Youth and Young Adult Pastor for several years. In 2010, Pastor Charles left his home church after attending for 33 years, to fulfill his God-given calling to plant a church, and started the DaySpring Christian Church.
Pastor Charles married his high-school sweetheart, Kesha in 2002. The Griffins have no children and reside in Gardena, CA.
PASTOR CHARLES' EDUCATION:
Alcorn State University; Mississippi; Attended in 1995
The Master's College; Attended in 2014-2015
The Master's Seminary; 2015-present